Celebrating Lincoln Alexander's 100th
This year marks the 100th anniversary of the birth of Lincoln Alexander. Canadians celebrate Lincoln Alexander Day on his birthday, January 21st. For Heritage Week and Black History Month, here's a look at heritage — especially local Hamilton heritage — and the late, great Linc.
Born in Toronto, Lincoln MacCauley Alexander (1922–2012) will be forever associated with Hamilton, where he settled after the Second World War. Elected as MP for Hamilton West, he became the first Black Canadian to sit in the House of Commons; a decade later, he became Canada's first Black cabinet minister. He is best remembered for his service as Lieutenant-Governor of Ontario, a role that made him the first Black Canadian to hold a viceregal appointment.
Lincoln Alexander and built heritage
As a teen, the young "Linc" had spent some of his formative years in Sugar Hill, Harlem, where he met Count Basie and Duke Ellington. Alexander's timing in New York was fortuitous: he lived in Harlem with his mother between 1936 and 1939 — the later part of the Harlem Renaissance. Sugar Hill is now a designated Historic District of Manhattan.
In 2004, Alexander was appointed Chair of the Ontario Heritage Trust, having served on the Board of Directors since 2001. In the summer of 2006, he officiated at an important heritage property recently acquired by the Trust: Uncle Tom's Cabin Historic Site in Dresden, Ontario.
I was delighted to have the opportunity as chairman of the Ontario Heritage Trust to declare that this world-renowned cabin would be protected. We are fortunate to have the opportunity to save this valuable resource and to remind people from around the world of the plight of Uncle Tom and those who used the Underground Railroad.

Lincoln Alexander on Uncle Tom's Cabin Historic Site
Lincoln Alexander in Hamilton
McMaster in the city's west end was my university of choice … and my veteran's allowance made it possible for me to attend.

Lincoln Alexander
In addition to the historic McMaster campus, there are a number of Hamilton heritage sites connected to Lincoln Alexander: Stewart Memorial Church; two heritage buildings in the area of our walking tour, Lincoln Alexander House and St. Giles; and two heritage places that were named in honour of Hamilton's beloved Linc.
1. Lincoln Alexander House (30 Proctor Blvd.)
He lived most of his life in a stately home in the east end on Proctor Boulevard.

Hamilton Spectator, October 20, 2012
For 48 years, this 1920s heritage home at 30 Proctor Boulevard was the Alexander family residence. A fine example of Edwardian Classicism with Arts and Crafts influences, it is listed on the city's heritage Register due to its association with Lincoln Alexander.
According to the City of Hamilton:
The subject property was home to the Alexander family, Lincoln M. and Yvonne (née Harrison), from August 14, 1959 to July 17, 2007. The historical value of the property lies in its association with Lincoln Alexander and his extensive list of accomplishments and contributions including:
WWII Veteran — RCAF — 1942–45
Graduate of McMaster University 1949
Called to the Bar (Osgoode Hall) 1953; Queen's Counsel 1966
Conservative Member of Parliament, Hamilton West, 1968 to 1979
Minister of Labour 1979
Appointed Chair of the Worker's Compensation Board (WCB) 1980
Served as Lt. Governor of Ontario from 1985 to 1991
Chancellor, University of Guelph — four terms commencing 1991
Order of Ontario 1992
Companion, Order of Canada 1992
Chair, Ontario Heritage Foundation 2004
During the forty-eight years the property was owned by the Alexander family, it became known for its rose gardens that contributed to the character of the neighbourhood. Yvonne Alexander's love for her gardens was recognized in 2003 by the Royal Botanical Gardens with the Yvonne Alexander Rose.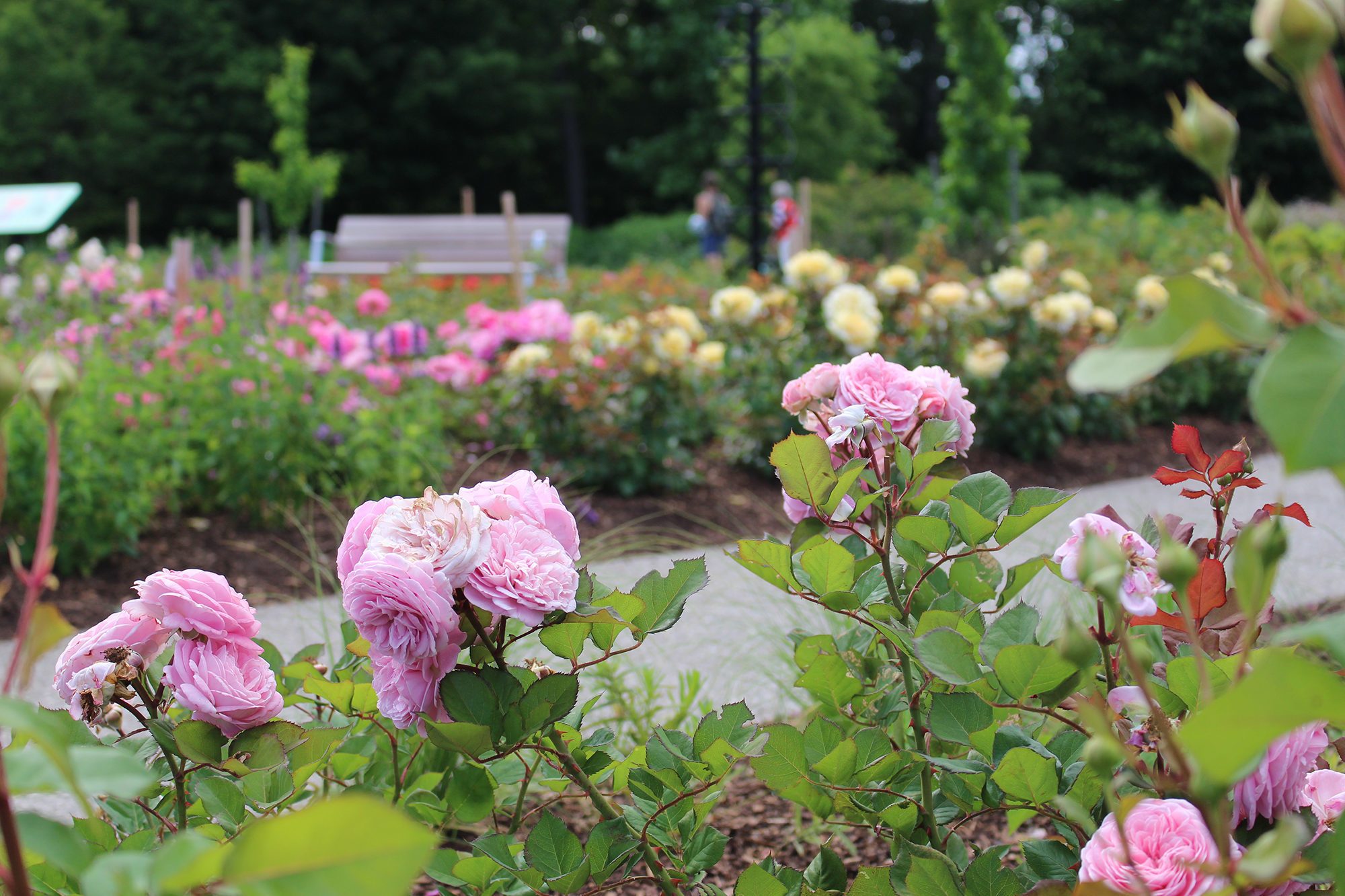 In 1977, the Alexanders received a surprise gift: at an honourary dinner held at the Royal Connaught, it was announced that the mortgage on 30 Proctor Boulevard had been paid in full.
500 crowded into the Royal Connaught ballroom to pay tribute to a man and his family who have endeared themselves to Hamilton in a way that few have ever matched.

Stan McNeill, Hamilton Spectator, 1977
To have, at age fifty-five, a testimonial dinner was incredibly humbling in its own right, but what these people did for us was nothing short of shocking. It reduced Yvonne to tears and me, for many seconds, to speechlessness. I had to struggle to maintain my composure. These great friends and colleagues had arranged for the discharge of the mortgage on our home on Proctor Boulevard, which was still in the range of $8,000.

Lincoln Alexander
2. St. Giles Church (85 Holton Ave. S. at Main St. E.)
Although his home church was the non-denominational Stewart Memorial in the Beasley neighbourhood, Lincoln Alexander often spoke at St. Giles United Church.
The Alexander residence is a short walk from Stewart & Witton's Gothic Revival masterpiece. You can see both in the same visit: heading towards Main, turn right onto leafy Dunsmure and continue south along Holton to reach this beautiful, historic church.
(You can extend your walk by taking our first #StewartWitton150 walking tour, available as a free download here.)
Despite over 2,500 signatures on a petition to save St. Giles — and being twice recommended for designation — the vacant, pre-WW1 St. Giles church is the only building associated with Lincoln Alexander to lack any heritage protections.
St. Giles community rink
In the winter, parishioners used to maintain a community skating rink in the parking lot behind St. Giles. As longtime neighbours recall, the Alexanders' son Keith would play hockey there.
The young Lincoln Alexander also loved to skate:
I can remember as a child being out on an outdoor rink in Toronto all by myself. I loved to skate, loved to hear the sound of the blades cutting and slashing through the ice. I liked crossing over my feet making turns and hearing the crunch of the ice. I eventually got a very good pair of CCM skates, which greatly enhanced my regular visits to the outdoor ice palaces. I liked to stickhandle the puck, too. Moving in and out with that rubber disc, zigging and zagging at top speed — well, my top speed — was such a thrill, with that brilliant winter air filling my lungs.
3. Iglesia Pentecostal Hispaña – Former St. Andrew's Presbyterian / Lincoln Alexander Community Centre (384 Barton St. E. at Smith)
One of Landsdale's only designated heritage properties, this Barton Village church was redesigned — and given a new parish hall — by Stewart & Witton in 1906.
The church hall became home to the Lincoln Alexander Community Centre (LACC), a pioneering Black-run community organization operating in the 1980s and 1990s.
The Canadian Caribbean Christian Ecumenical Communion Inc. purchased the property in 1984, the year after the church closed. The city granted heritage designation during the CCCEC's ownership, in 1988.
A dissertation on Hamilton's Black history, by Dr. Efajemue Etoroma, details the rich history of the Lincoln Alexander Community Centre:
The LACC ran many community events and programs for local youth, as well as organizing yearly celebrations of Martin Luther King Jr. Day. Thanks to Etoroma's history, we know that guest speakers at these events included civil rights hero Rosa Parks as well as MLK's son Dexter Scott King.

Barton Village BIA on Instagram, September 2020
4. Lincoln Alexander Centre – former Odeon Theatres (160 King St. E. at Mary St.)
Built as a cinema, this listed heritage property was renovated in 2007 to become the Lincoln Alexander Conference Centre. The architect of the original Odeon was Mandel C. Sprachman of Sprachman & Giller, Toronto.
In January 2022, the congregation of Philpott Memorial (York and Park St. N.) announced its purchase of the building.
4. Stewart Memorial Church and Parsonage (112–16 John St. N. below Wilson St.)
I was on hand in 1987 to help Stewart Memorial celebrate fifty years as a non-denominational congregation. I said, "When I listen to a summary of this church's history, I think of words like leadership, courage, conviction, and hard work." These are traits I clearly regard as the underpinnings of greatness and success, and they are the ones I have valued throughout my life, whether it involved politics, fighting racism, or even faith.

Lincoln Alexander
This designated house of worship is inextricably linked with Lincoln Alexander and Black history in Ontario. Pastor Rev. John C. Holland (1882–1954) was a lifelong friend of Lincoln Alexander's, and Yvonne Harrison, a congregant, drew the young veteran to settle in Hamilton.
Now used as the church office, the parsonage was the residence of Reverend Holland, Stewart Memorial's pastor from 1924 to his death in 1954. At one time, Lincoln Alexander lived in the parsonage with the Reverend and his wife, Rachel.
One of the first places I lived when I first moved to Hamilton after the war was with Alfonso [Allen]'s mother, Rachel, and her husband, John C. Holland, the dynamic preacher at Stewart Memorial Church.

Lincoln Alexander
Like Reverend Holland, both Lincoln Alexander and Yvonne Harrison's fathers worked as railway porters at a time when railways were the largest employers of Black men in Canada.
Reverend Holland married Lincoln and Yvonne Alexander in 1948, while Lincoln was still at McMaster University. And Holland's successor, Reverend Chisholm, married their son Keith and his wife, Joyce (the reception was held at the officers' mess in the James Street Armouries) and baptized their granddaughters.
Whenever I could, I continued to sing with the choir at Stewart, where I'm sure my deep, booming voice was appreciated. From time to time, I'd be called upon to do solos at Rev. Chisholm's beckoning, so I imagine I turned in an acceptable performance. I also served as clerk at Stewart Memorial. This meant handling records and legal matters, so I was able to draw on my profession. Rev. Chisholm and the church community appreciated this. I also felt it was important to reach out and engage our parishioners, particularly our younger ones, since they are critical to the future of the church.

Lincoln Alexander
Both Yvonne and Lincoln Alexander's funerals were held at Stewart Memorial.
A few years ago Linc reunited one last time with the Stewart Memorial Church choir for the unveiling of a heritage plaque. He had been a parishioner years ago, and sang in the choir in the 50s and early 60s. He always had a beautiful singing voice.

Hamilton Spectator, October 20, 2012
Sources and further reading
Lincoln M. Alexander with Herb Shoveller, "Go To School, You're A Little Black Boy": The Honourable Lincoln M. Alexander: A Memoir (Dundurn Press, 2006)
City of Hamilton, Inventory of Heritage Properties, Places of Worship Inventory
Efajemue E. Etoroma, "Blacks in Hamilton: An Analysis of Factors in Community Building" (PhD dissertation, McMaster University, 1992; link)
More on Stewart Memorial at the Ontario Heritage Trust.
See now the Historical Preservation and Law and Politics pages at the Hamilton Black History Database, an initiative of the Hamilton Black History Council launched February 21st, 2022.
Based in Hamilton's Ward 3, the Friends of St. Giles are a group of neighbours and residents leading the community-based effort to save Stewart & Witton's masterpiece, St. Giles Church.
friendsofstgiles.ca | @StGilesFriends | #SaveStGiles #StewartWitton150