Did you know that Stewart & Witton were leaders in multi-unit housing?
In their hometown of Hamilton, Ontario, the Herkimer Apartments might be the architects' best-known residential project. But housing doesn't have to be purpose-built. In addition to two apartment buildings, two former schools and even an industrial conversion show how Stewart & Witton's historic architecture can provide homes for everyone.
1. Herkimer at Bay
Address: 86 Herkimer St.
Neighbourhood: Durand
Built in: 1914–15
Reuse: luxury condominium housing
Number of units: 23 (16 + annex)
Herkimer is the last word in apartment houses.

Hamilton Herald, 1915
These beloved apartments in Durand are clad in Stewart & Witton's distinctive polychromatic brick and decorated in glazed white terracotta from the Atlantic Terra Cotta Company. The architects gave their high-profile commission all the innovations of a New York-style apartment building:
The Herkimer boasted such features as fire-proof construction, an electric call system, metal conduit encased wiring, working fireplaces, central refrigeration (air conditioning) and mail delivery to each apartment. The first elevator used in an apartment building in Hamilton, ran from basement to rooftop garden.

Rob Hamilton, The Durander, Winter 2007
Core Urban restored and converted the Herkimer Apartments into condos in 2010, retaining original interior features such as mouldings, baseboards, and even doorknobs. Today, Stewart & Witton's landmark apartment building is a listed heritage property that's an important part of the revitalized downtown core.
2. Hampton Court Apartments
Address: 12–16 East Ave. N.
Neighbourhood: Landsdale
Built in: 1914–15
Reuse: affordable housing
Number of units: 30 
We often get inquiries from companies wishing to film here.

Kiwanis Homes Inc. @KiwanisHomes
This Stewart & Witton apartment building is an early example of adaptive reuse: it incorporates Rose Arden, the pre-Confederation home of Hamilton Spectator founder Robert Smiley. (Read more in the GALA Herald.)
For decades, Kiwanis Homes has operated the Hampton Court complex as affordable housing. The Kiwanis building is also a local favourite. When Jason Thorne, Hamilton's General Manager of Planning and Economic Development, tweeted a photo (see above), Ward 3 Councillor Nrinder Nann commented:
It is among my favourite looking apartment buildings. Perfect mid size apartment design with considerable dedicated space to balconies that facilitate life outdoors!

Councillor Nrinder Nann (@NrinderWard3)
3. Good Shepherd Housing
Address: 120 Cannon St. E.
Neighbourhood: Beasley
Built in: 1905
Reuse: affordable housing
Number of units: 35
A marvellous monument to a manufacturing era long past…

Steve Buist, Hamilton Spectator, 2019
Originally the Thornton & Douglas Ltd. garment factory, this early Stewart & Witton commission was built in the neighbourhood of other light industry, such as the Seedworks and Cannon Knitting Mills. As municipal records note, the brick details on this listed heritage property make for a richly textured façade along Cannon and Mary Streets.
In 2019, Good Shepherd, a division of the local Catholic diocese, completed its conversion of the warehouse into affordable apartments. Good Shepherd Non-Profit Homes partnered with Historia Building Restoration for the revitalization of the exterior. On the upper storeys, residents can enjoy the original wood floors once trod by garment workers in the early 20th century. (Read the article by Steve Buist.)
4. Gibson School Lofts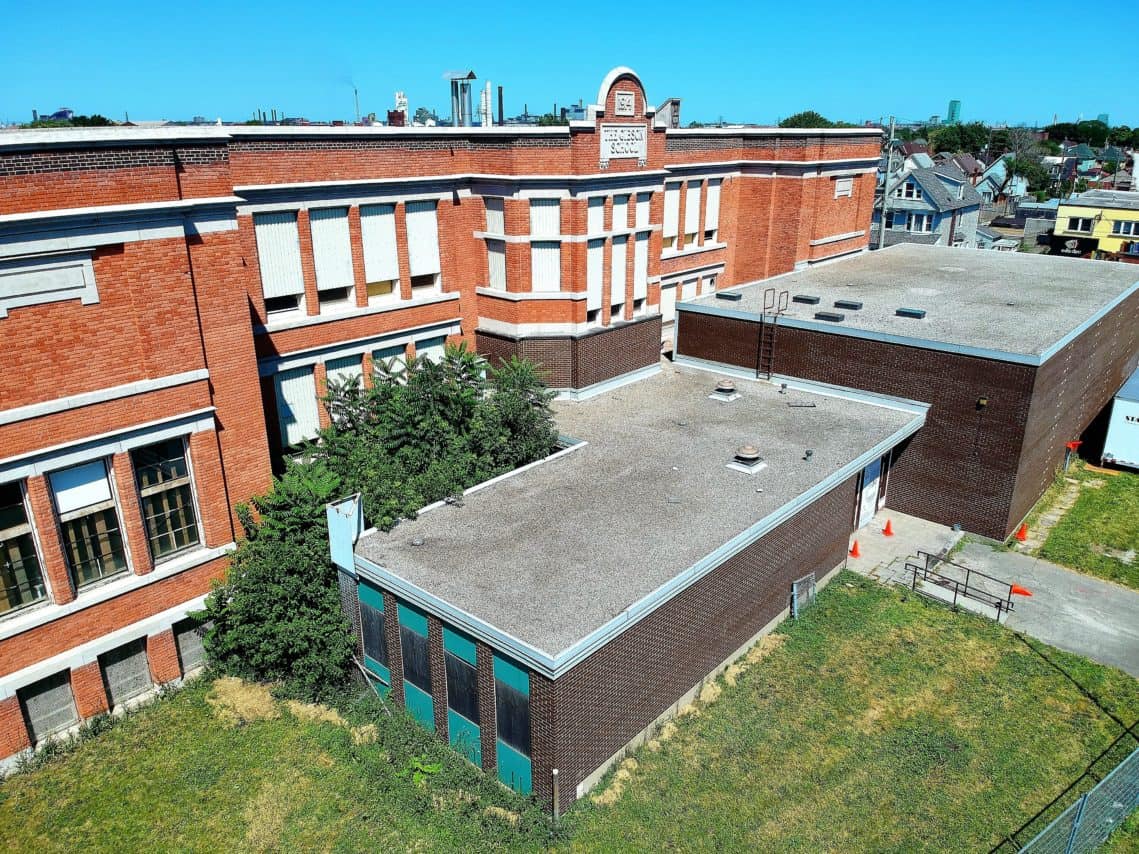 Address: 601 Barton St. E.
Neighbourhood: Gibson / Barton Village
Built in: 1910–14
Reuse: loft rental housing
Number of units (approx.): 50 
Gibson Lofts is a century-old, historically designated school on Barton Street East, which is quickly becoming Hamilton's equivalent to Toronto's Queen West. Features include ceilings up to 17 feet tall, solid maple floors, soaring windows, exposed brick walls, serious ceiling fans, and fibre optic wireless service and spectacular centre hallways you could drive a school bus down.

Stinson Properties
One of Stewart & Witton's many school commissions, the Gibson School was originally called the Barton Street School. It was renamed in 1913, the year after its namesake, Lieutenant Governor John Morison Gibson, was elevated to the knighthood. The school closed in 2009.
In 2016, the Gibson School was designated with the support of owner Harry Stinson and then-Ward 3 Councillor Matthew Green. Inside, the designation includes the striking iron staircases.
Mr. Stinson is a very sophisticated investor in adaptive reuse of heritage properties here in Hamilton. He understands the market demand for built heritage and urban living very well. Having worked along him on the Gibson school project, I know he supports, in fact encouraged, the designation as a selling feature for his project as well as for the potential access to our city's financial heritage development incentives.

Matthew Green (Ward 3 Councillor in 2016, currently MP for Hamilton Centre)
Initially planned as condos, the former school in Barton Village is being converted to rental apartments as the Gibson Lofts. Occupancy is projected for mid-2022.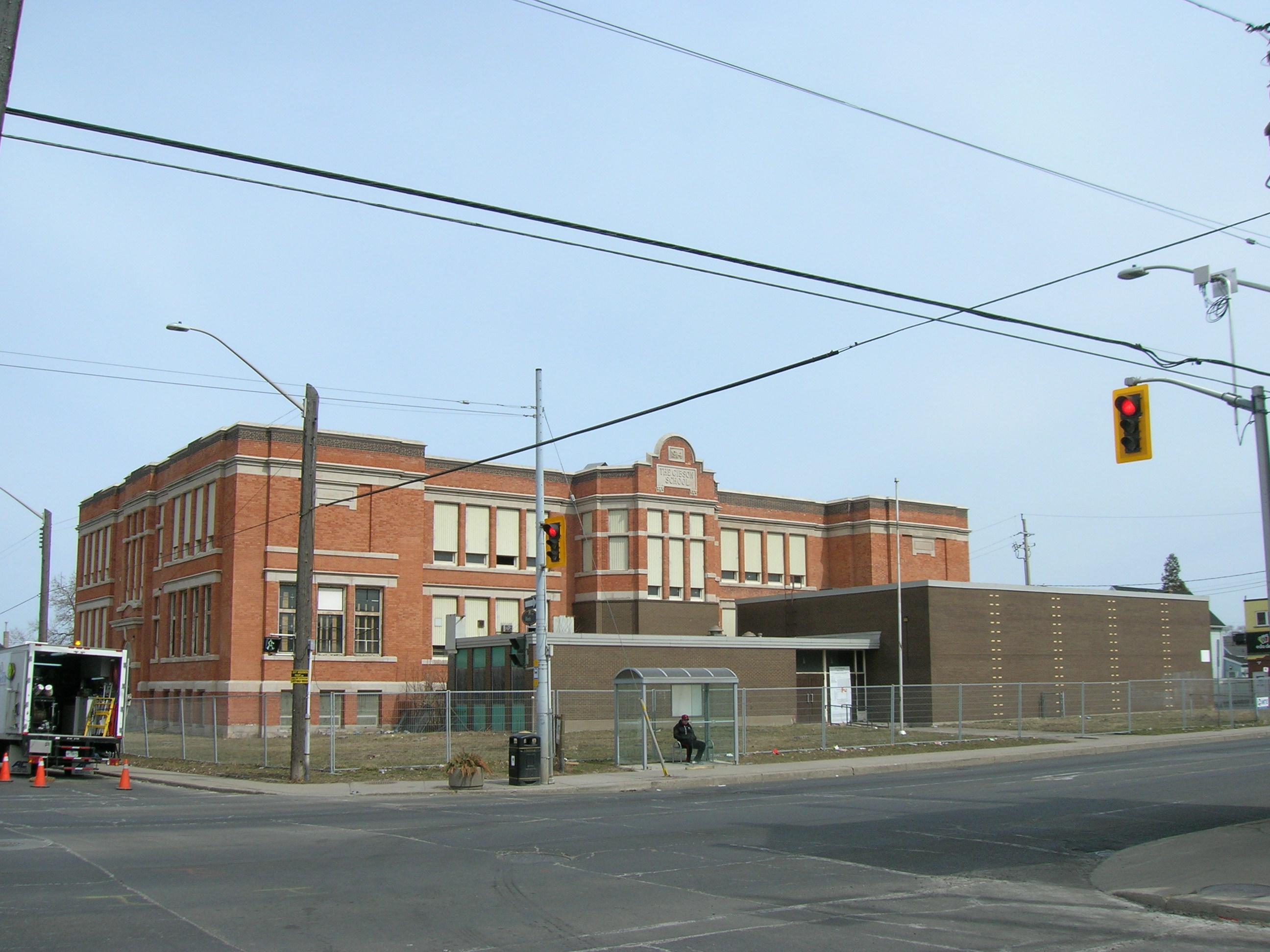 5. Former King George School
Address: 77 Gage Ave. N.
Neighbourhood: Stipley
Built in: 1911–12
Reuse (proposed): Indigenous housing + friendship centre
Number of units: TBD 
This stone-and-brick treasure…

Paul Wilson, CBC Hamilton, 2013
Once threatened with demolition, Stewart & Witton's King George School is now a heritage-designated, city-owned landmark that could become a housing hub for Indigenous Hamiltonians.
King George School closed in 2012, and was set to be razed by the local school board in favour of a new building. Purchased by the City of Hamilton in 2017, the former elementary school was the focus of a previous proposal for a continuing education / community hub involving OCAD University.
In spring 2021, together with Ward 3 Councillor Nann, the Hamilton Regional Indian Centre and Ontario Aboriginal Housing Services announced a new proposal to turn the school building into an Indigenous housing and friendship centre. (Read Teviah Moro's article.)
Fun fact: King George School played the Red Centre in season 1 of The Handmaid's Tale.
Our built heritage is a valuable resource. In the current housing crisis and amid the climate emergency, repurposing historic architecture is a win-win-win for people, culture, and the environment — creating new residential units quickly and sustainably, while preserving our precious, irreplaceable landmark buildings.
Read more about Stewart & Witton
With thanks to Deana Brady, Laura Farr, Barry Gray, Rob Hamilton, and Lindsay Hauser.